Vendor- Mariner Books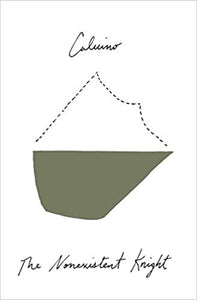 The Nonexistent Knight, by Italo Calvino
Mariner Books
Regular price $14.95 Sale
An empty suit of armor is the hero in this witty novella, a picaresque gem—now available in an independent volume for the first time—that brilliantly parodies medieval knighthood.

Set in the time of Charlemagne and narrated by a nun with her own secrets to keep, The Nonexistent Knight tells the story of Agilulf, a gleaming white suit of armor with nothing inside it. A challenge to his honor sends Agilulf on a search through France, England, and North Africa to confirm the chastity of a virgin he saved from rape years earlier. In the end, after many surprising turns of plot, a closing confession draws this sparkling novella to a perfect finish.
ITALO CALVINO (1923–1985) attained worldwide renown as one of the twentieth century's greatest storytellers. Born in Cuba, he was raised in San Remo, Italy, and later lived in Turin, Paris, Rome, and elsewhere. Among his many works are Invisible Cities, If on a winter's night a traveler, The Baron in the Trees, and other novels, as well as numerous collections of fiction, folktales, criticism, and essays. His works have been translated into dozens of languages.