Vendor- Harper Collins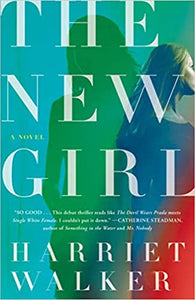 The New Girl, by Harriet Walker
Harper Collins
Regular price $17.99 Sale
She's borrowed your life. But what if she decides to keep it?

Glamorous Margot Jones is the fashion editor at glossy magazine Haute. Pregnant with her first child, Margot's carefully curated life is the object of other women's envy—who wouldn't want her successful career, loving husband, beautiful house, and stylish wardrobe?

Maggie, a freelance journalist, certainly knows she doesn't measure up. But when she gets the temp job covering Margot's maternity leave, Maggie seizes the chance to live a flashier life—even if it's only for a few months.

But the simultaneous arrival of Margot's baby and a brutal end to her oldest friendship sends Margot into a spiral of insecurity and suspicion; normal preoccupations of new motherhood turn into dark and frightening paranoia. Who is the vicious online troll mocking Margot's facade of perfection and threatening to expose a dark secret she's spent years concealing? Are Maggie's newfound ambitions and plucky enthusiasm as innocent as they seem? And what happens when Margot is ready to return to her old life—especially if Maggie doesn't want to leave?
"With elegant prose and complex, vivid characters, The New Girl is a delicious slow burn of a thriller. Harriet Walker has an impressive hold on how women really think, and she sweeps the reader into the book's suspenseful world, skillfully capturing both the sparkly mania of the fashion world and the strange bell jar of new motherhood. I can't wait to read more from her."—Andrea Bartz, author of The Herd and The Lost Night

"Keenly observed and brimming with tension, The New Girl is a must-read."—Clare Mackintosh, New York Times bestselling author of I Let You Go
 
"A wickedly funny psychological thriller that's in turn brutal and tender."—Publishers Weekly
Hardcover release: May 19, 2020