Vendor- Grand Central Publishing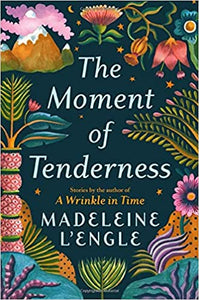 The Moment of Tenderness, by Madeleine L'Engle
Grand Central Publishing
Regular price $27.00 Sale
This powerful collection of short stories traces an emotional arc inspired by Madeleine L'Engle's early life and career, from her lonely childhood in New York to her life as a mother in small-town Connecticut. In a selection of eighteen stories discovered by one of L'Engle's granddaughters, we see how L'Engle's personal experiences and abiding faith informed the creation of her many cherished works.
Some of these stories have never been published; others were refashioned into scenes for her novels and memoirs. Almost all were written in the 1940s and '50s, from Madeleine's college years until just before the publication of
A Wrinkle in Time
.
From realism to science-fiction to fantasy, there is something for everyone in this magical collection.
"Gemlike . . . A luminous collection that mines the mundane as cannily as the fantastic and extraterrestrial."―
Kirkus, Starred Review
"L'Engle's stories are softly tragic with sparkles of hope and a sincere faith, told in a simple and earnest voice . . . [these stories] will spark the interest of the approximately one bazillion fans of L'Engle's 
A Wrinkle in Time
."―
Booklist
"Unswerving throughout is L'Engle's mastery of mood-setting language and her depiction of the complexity of human relationships. Voiklis's illuminating introduction places many of the stories in the context of L'Engle's life and points out those that were reworked and integrated into her later novels. The book will obviously attract L'Engle aficionados, but the thoughtful selection and organization recommends the volume to anyone curious about a writer's evolution."―
Publishers Weekly
"This collection is a must for fans of the iconic author."―
PopSugar
Hardcover. April 21, 2020
Madeleine L'Engle
 published her first novel, 
The Small Rain
, in 1945. Four years later, she published her first children's book, 
And Both Were Young
. Her Newbery-award winning novel 
A Wrinkle in Time
, which was published in 1962, dealt with themes she toyed with in her diaries for years, from personal shortcomings to Einstein's Theory of Relativity. L'Engle wrote fiction and nonfiction for adults, as well as poetry. She died in 2007.