Vendor- Princeton University Press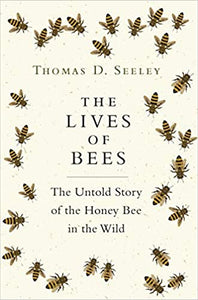 The Lives of Bees: The Untold Story of the Honey Bee in the Wild, by Thomas D. Seeley
Princeton University Press
Regular price $29.95 Sale
Humans have kept honey bees in hives for millennia, yet only in recent decades have biologists begun to investigate how these industrious insects live in the wild. The Lives of Bees is Thomas Seeley's captivating story of what scientists are learning about the behavior, social life, and survival strategies of honey bees living outside the beekeeper's hive―and how wild honey bees may hold the key to reversing the alarming die-off of the planet's managed honey bee populations.
Seeley, a world authority on honey bees, sheds light on why wild honey bees are still thriving while those living in managed colonies are in crisis. Drawing on the latest science as well as insights from his own pioneering fieldwork, he describes in extraordinary detail how honey bees live in nature and shows how this differs significantly from their lives under the management of beekeepers. Seeley presents an entirely new approach to beekeeping―Darwinian Beekeeping―which enables honey bees to use the toolkit of survival skills their species has acquired over the past thirty million years, and to evolve solutions to the new challenges they face today. He shows beekeepers how to use the principles of natural selection to guide their practices, and he offers a new vision of how beekeeping can better align with the natural habits of honey bees.
Engagingly written and deeply personal, The Lives of Bees reveals how we can become better custodians of honey bees and make use of their resources in ways that enrich their lives as well as our own.
"[A] beautifully written exposition of the fascinating details of honey bee behaviour, physiology, genetics and interplay with the environment."---Peter Neerup Buhl, International Journal of Environment Studies

"This is a wonderful and original book about honey bees, unlike the numerous 'hand books' which are the staple fare of beekeepers. Professor Seeley has turned the idea of keeping bees on its head, pointing out the many indications that our current methods of exploiting honey bees may be quite harmful to them, or at best, not helpful. . . . so well-researched and presented that I feel it should be basic and essential reading for all beekeepers", An Beachaire

"Written for experts, beekeepers and biology buffs alike. Seeley's fifth book on bees illuminates why wild honeybees across the planet are thriving while managed colonies are under threat."---Krishna Ramanujan, Cornell Chronicle

"This is a first class work that should be read by anyone concerned with the alarming decline in pollinators of all taxa, but is especially important for bee keepers and their future as honey producers, and for biologists and landowners anxious to preserve habitat for wild honey bees."---David M. Gascoigne, Travels with Birds

"Both the layman and general entomologist will enjoy this scientific detective story that is so engagingly and entertainingly told by a preeminent expert in the field."---Angus McCullough, Entomologist's Monthly Magazine
Hardcover. Released May 18, 2019. (No paperback scheduled).