Vendor- Harper Collins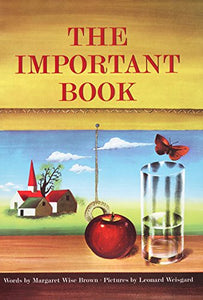 The Important Book, by Margaret Wise Brown
Harper Collins
Regular price $16.99 Sale
What is the most important thing about a spoon? The fact that you can eat with it? What about an apple? Or a shoe? This book helps curious preschoolers notice important details about their everyday surroundings, like daisies are white, rain is wet, and a spoon is used for eating.
For the important thing about The Important Book is that the book resonates long after it's closed. What's most important about many familiar things--like rain and wind, apples and daisies--is suggested in rhythmic words and vivid pictures. "A perfect book. The text establishes a word game which tiny children will accept with glee," said Kirkus.
Chosen as a "Teachers' Top 100 Books for Children" by the American National Education Association.
4 - 8 Years