Vendor- Metropolis Books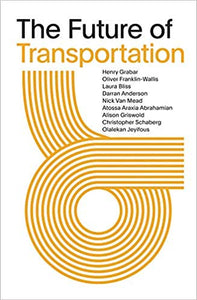 The Future of Transportation, by Henry Grabar, Atossa Araxia Abrahamian, et al (SOM Thinker Series)
Metropolis Books
Regular price $17.95 Sale
Technological innovations like delivery drones and autonomous vehicles might seem like tomorrow's means of conveyance, but do they truly represent the road ahead? In a collection of insightful short reads, The Future of Transportation reflects on the interventions that are shaping new ways of living and moving. While this volume makes no promises, it does take a step back, away from the hype of the new, to explore the potential of existing modes of transit such as buses, bikes, and trains. By looking beyond conventional architectural discussions, this book considers how the remedies for modern-day transportation woes may not all be in the future, but hiding in plain and present sight.
In his introduction, editor Henry Grabar states, "The future of transportation is not about inventions. It's about choices." Oliver Franklin-Wallis reveals what it takes to build the world's largest cruise ships, and how these vessels have evolved from "a means of transport to vast floating cities." Laura Bliss speculates on the promises made by navigation technologies to solve traffic congestion in Los Angeles. Darran Anderson reflects on the end of the getaway car to investigate how surveillance has changed the way crimes are committed. Nick Van Mead examines why Dar es Salaam is placing its bets on Bus Rapid Transit (BRT) to mobilize its surging population, and how this venture could transform the state of public transport in African cities. Atossa Araxia Abrahamian writes about how foreign preclearance at airport customs has not only exported our borders but also shifted notions of national boundaries from the physical to the abstract. Alison Griswold delves into Silicon Valley's obsession with mobility and uncovers why the facilitators of these modern interventions are turning to the past to inform visions of the future. Christopher Schaberg contemplates how airports can be reimagined—and re-experienced—as places to tune into the rhythms of travel, rather than tune out.
"Mobility, in all its manifestations, is a ubiquitous force in shaping urban form and transportation buildings," writes SOM Director Derek A.R. Moore in the foreword. "We at SOM see it as a force to be humanized through thoughtful design. It should also be universally accessible—a human right, in fact. The importance of transportation to our lives—and to the planet—is so great that we must treat it as a public benefit, a common space, and an essential part of the solution to the challenges we face in the 21st century."

The Future of Transportation is the third volume in the SOM Thinkers series, conceived by Skidmore, Owings & Merrill. SOM Thinkers originated from a desire to start a public conversation about the built environment. Rather than frame the subject in the expected "professional" language, the series poses today's most pressing questions about design and architecture in a bold and accessible way. 
Skidmore, Owings & Merrill (SOM) is an influential collective of architects, designers, engineers and planners, responsible for some of the world's most technically and environmentally advanced buildings, and significant public spaces. From a strategic regional plan to a single piece of furniture, SOM's designs anticipate change in the way we live, work and communicate, and have brought lasting value to communities around the world. The firm's approach is highly collaborative, and its interdisciplinary team is engaged on a wide range of international projects, with creative studios based across the globe.

This volume features work by Henry Grabar, Oliver Franklin-Wallis, Laura Bliss, Darran Anderson, Nick Van Mead, Atossa Araxia Abrahamian, Alison Griswold and Christopher Schaberg, with artwork by Olalekan Jeyifous.
Released November 19, 2019