Vendor- Artisan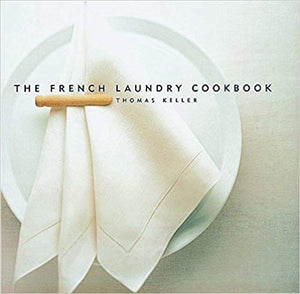 The French Laundry Cookbook (The Thomas Keller Library)
Artisan
Regular price $60.00 Sale
2019 marks the twenty-fifth anniversary of the acclaimed French Laundry restaurant in the Napa Valley—"the most exciting place to eat in the United States" (The New York Times). The most transformative cookbook of the century celebrates this milestone by showcasing the genius of chef/proprietor Thomas Keller himself. Keller is a wizard, a purist, a man obsessed with getting it right. And this, his first cookbook, is every bit as satisfying as a French Laundry meal itself: a series of small, impeccable, highly refined, intensely focused courses.

Most dazzling is how simple Keller's methods are: squeegeeing the moisture from the skin on fish so it sautées beautifully; poaching eggs in a deep pot of water for perfect shape; the initial steeping in the shell that makes cooking raw lobster out of the shell a cinch; using vinegar as a flavor enhancer; the repeated washing of bones for stock for the cleanest, clearest tastes.

From innovative soup techniques, to the proper way to cook green vegetables, to secrets of great fish cookery, to the creation of breathtaking desserts; from beurre monté to foie gras au torchon, to a wild and thoroughly unexpected take on coffee and doughnuts, The French Laundry Cookbook captures, through recipes, essays, profiles, and extraordinary photography, one of America's great restaurants, its great chef, and the food that makes both unique.

One hundred and fifty superlative recipes are exact recipes from the French Laundry kitchen—no shortcuts have been taken, no critical steps ignored, all have been thoroughly tested in home kitchens. If you can't get to the French Laundry, you can now re-create at home the very experience Wine Spectator described as "as close to dining perfection as it gets."
From inside the flap:
Thomas Keller, chef/proprieter of the French Laundry in the Napa Valley—"the most exciting place to eat in the United States," wrote Ruth Reichl in The New York Times—is a wizard, a purist, a man obsessed with getting it right. And this, his first cookbook, is every bit as satisfying as a French Laundry meal itself: a series of small, impeccable, highly refined, intensely focused courses.

Most dazzling is how simple Keller's methods are: squeegeeing the moisture from the skin on fish so it sautés beautifully; poaching eggs in a deep pot of water for perfect shape; the initial steeping in the shell that makes cooking raw lobster out of the shell a cinch; using vinegar as a flavor enhancer; the repeated washing of bones for stock for the cleanest, clearest tastes.

From innovative soup techniques, to the proper way to cook green vegetables, to secrets of great fish cookery, to the creation of breathtaking desserts; from beurre monté to foie gras au torchon, to a wild and thoroughly unexpected take on coffee and doughnuts, The French Laundry Cookbook captures, through recipes, essays, profiles, and extraordinary photography, one of America's great restaurants, its great chef, and the food that makes both unique.

One hundred and fifty superlative recipes are exact recipes from the French Laundry kitchen—no shortcuts have been taken, no critical steps ignored, all have been thoroughly tested in home kitchens. If you can't get to the French Laundry, you can now re-create at home the very experience Wine Spectator described as "as close to dining perfection as it gets."
About the Author:
Thomas Keller, author of
The French Laundry Cookbook
,
Bouchon
,
Under Pressure
,
Ad Hoc at Home
, and
Bouchon Bakery
, has five restaurants and five bakeries in the United States. He is the first and only American chef to have two Michelin Guide three-star-rated restaurants, the French Laundry and Per Se, both of which continue to rank among the best restaurants in America and the world. In 2011 he was designated a Chevalier of the French Legion of Honor, the first American male chef to be so honored. That same year, he launched Cup4Cup, the first gluten-free flour that replaces traditional all-purpose flour or whole wheat flour in any recipe, cup for cup, such that you'd never know the difference. In 2017, as part of the Ment'or BKB Foundation, established with chefs Jérôme Bocuse and Daniel Boulud, Keller led Team USA to win the Bocuse d'Or competition in Lyon, France, for the first time ever.
Susie Heller, executive producer of PBS's
Chef Story
, has produced award-winning television cooking series and co-authored numerous award-winning books, among them
The French Laundry Cookbook
by Thomas Keller and
Bouchon
by Thomas Keller and Jeffrey Cerciello. She lives in Napa, California.
Deborah Jones's recent honors include Best Photography in a Cookbook from the James Beard Foundation for her work in
Bouchon
. A frequent contributor to national magazines, she conducts a parallel commercial career from her San Francisco studio.
Released November 1, 1999