Vendor- Kirman, Robin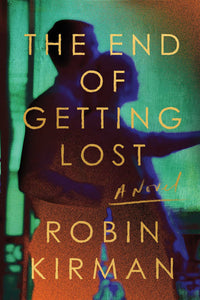 The End of Getting Lost
Kirman, Robin
Regular price $26.00 Sale
The year is 1996—a time before cell phones, status updates, and location tags—when you could still travel to a remote corner of the world and disappear. This is where we meet Gina and Duncan, a young couple madly in love, traveling around Europe on a romantic adventure. It's a time both thrilling and dizzying for Gina, whose memories are hazy following a head injury—and the growing sense that the man at her side is keeping secrets from her.

Just what is Duncan hiding and how far will he go to keep their pasts at bay? As the pair hop borders across Europe, their former lives threatening to catch up with them while the truth grows more elusive, we witness how love can lead us astray, and what it means to lose oneself in love

The End of Getting Lost is a tightrope act of deception and an elegant exploration of love and marriage—as well as our cherished illusions of both. With notes of Patricia Highsmith, Caroline Kepnes, and Lauren Groff, Robin Kirman has spun a delicious tale of deceit, redemption, and the fight to keep love alive—no matter the costs.
Hardcover, Feb 15th 2022