Vendor- Pavesi, Alex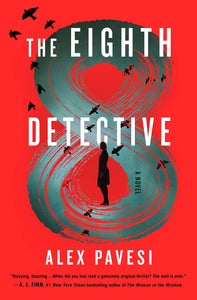 Eighth Detective, The
Pavesi, Alex
Regular price $26.99 $26.99 Sale
There are rules for murder mysteries. There must be a victim. A suspect. A detective.

Grant McAllister, a professor of mathematics, once sat down and worked all the rules out – and wrote seven perfect detective stories to demonstrate. But that was thirty years ago. Now Grant lives in seclusion on a remote Mediterranean island, counting the rest of his days.

Until Julia Hart, a brilliant, ambitious editor knocks on his door. Julia wishes to republish his book, and together they must revisit those old stories: an author hiding from his past and an editor keen to understand it.

But there are things in the stories that don't add up. Inconsistencies left by Grant that a sharp-eyed editor begins to suspect are more than mistakes. They may be clues, and Julia finds herself with a mystery of her own to solve.

Alex Pavesi's The Eighth Detective is a love letter to classic detective stories with a modern twist, where nothing is as it seems, and proof that the best mysteries break all the rules.