Vendor- G.P. Putnam's Sons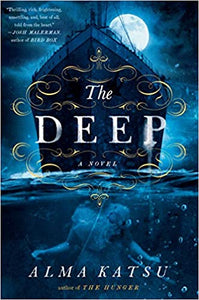 The Deep, by Alma Katsu
G.P. Putnam's Sons
Regular price $27.00 Sale
Someone, or something, is haunting the ship. Between mysterious disappearances and sudden deaths, the guests of the Titanic have found themselves suspended in an eerie, unsettling twilight zone from the moment they set sail. Several of them, including maid Annie Hebley, guest Mark Fletcher, and millionaires Madeleine Astor and Benjamin Guggenheim, are convinced there's something sinister--almost otherwordly--afoot. But before they can locate the source of the danger, as the world knows, disaster strikes.

Years later, Annie, having survived that fateful night, has attempted to put her life back together. Working as a nurse on the sixth voyage of the Titanic's sister ship, the Britannic, newly refitted as a hospital ship, she happens across an unconscious Mark, now a soldier fighting in World War I. At first, Annie is thrilled and relieved to learn that he too survived the sinking, but soon, Mark's presence awakens deep-buried feelings and secrets, forcing her to reckon with the demons of her past--as they both discover that the terror may not yet be over.

Brilliantly combining the supernatural with the height of historical disaster, The Deep is an exploration of love and destiny, desire and innocence, and, above all, a quest to understand how our choices can lead us inexorably toward our doom.
March 10, 2020