Vendor- Franzen, Jonathan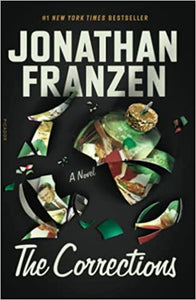 The Corrections
Franzen, Jonathan
Regular price $20.00 Sale

After almost fifty years as a wife and mother, Enid Lambert is ready to have some fun. Unfortunately, her husband, Alfred, is losing his sanity to Parkinson's disease, and their children have long since flown the family nest to the catastrophes of their own lives.

The oldest, Gary, a once-stable portfolio manager and family man, is trying to convince his wife and himself that, despite certain alarming indicators, he is not clinically depressed. The middle child, Chip, has lost his seemingly secure academic job and is failing spectacularly at his new line of work. And Denise, the youngest, has escaped a disastrous marriage only to pour her youth and beauty down the drain of an affair with a married man―or so her mother fears.

Desperate for some pleasure to look forward to, Enid has set her heart on an elusive goal: bringing her family together for one last Christmas at home.
Paperback, Oct 12th 2021