Vendor- Little A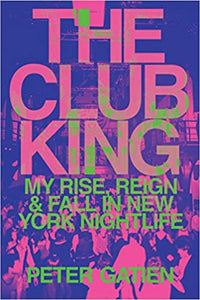 The Club King: My Rise, Reign, and Fall in New York Nightlife, by Peter Gatien
Little A
Regular price $24.95 Sale
A behind-the-scenes look at the meteoric rise and stunning takedown of a nightclub empire, by the man who held the reins.
Limelight, Tunnel, Club USA, and Palladium—the cutting-edge, insanely successful, and notoriously decadent clubs that dominated New York City's entertainment scene, their influences reverberating around the world. Across four decades, a single mysterious figure stood behind them all: Peter Gatien, the leading impresario of global nightlife. His clubs didn't follow the trends—they created movements. They nurtured vanguard music acts that brought rock, house, grunge, hip-hop, industrial, and techno to the beautiful ones who showed up night after night to tear the roof off every party. But as Peter and his innovative team ramped up the hedonistic highs, Rudolph Giuliani was leading a major shift in the city. Under the guise of improving New York City's "quality of life," the club scene was targeted—and Peter Gatien's empire became a major focus of the administration.
In this frank and gritty memoir, Peter Gatien charts the seismic changes in his personal and professional life and the targeted destruction of his nightclub empire. From Peter's childhood in a Canadian mill town to the freedom of the 1970s, through the excesses of the 1980s and the ensuing crackdown in the 1990s, The Club King chronicles the birth and death of a cultural movement—and the life of the man who was in control of every beat.
Peter Gatien created, owned, and operated groundbreaking nightclubs over the span of four decades. In his early twenties, he opened his first club, the Aardvark, in his hometown of Cornwall, Ontario. He went on to helm an unbroken string of successful megaclubs, including Limelight in New York City, Atlanta, Miami, London, and Chicago, as well as Manhattan's Palladium, Tunnel, and Club USA, and CiRCA in Toronto. Gatien was also the executive producer of the film A Bronx Tale.
"A giant of the 1970's through 1990's New York City club scene…paints a picture of a simple guy with big dreams who was always vulnerable to outside speculation and conjecture…crisp, vivid prose…a warm tale of a local boy making good on the other side of the border…Sixteen years after his deportation back to Canada, Gatien tells his side of the story. An arresting and provocative narrative." —Kirkus Reviews
"Gatien once dominated the empire that is New York nightlife. Now he's telling his story—the highs, the hedonism, and all the gritty details." —Newsweek
March 1, 2020