Vendor- Ellis, Joseph J.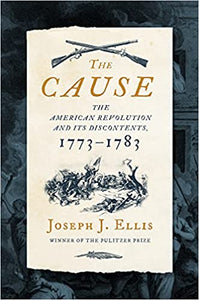 The Cause: the American Revolution and its Discontents, 1773-1783
Ellis, Joseph J.
Regular price $30.00 Sale
In one of the most "exciting and engaging" (Gordon S. Wood) histories of the American founding in decades, Pulitzer Prize–winning historian Joseph J. Ellis offers an epic account of the origins and clashing ideologies of America's revolutionary era, recovering a war more brutal, and more disorienting, than any in our history, save perhaps the Civil War.
For more than two centuries, historians have debated the history of the American Revolution, disputing its roots, its provenance, and above all, its meaning. These questions have intrigued Ellis―one of our most celebrated scholars of American history―throughout his entire career. With this much-anticipated volume, he at last brings the story of the revolution to vivid life, with "surprising relevance" (Susan Dunn) for our modern era. Completing a trilogy of books that began with Founding Brothers, The Cause returns us to the very heart of the American founding, telling the military and political story of the war for independence from the ground up, and from all sides: British and American, loyalist and patriot, white and Black.
Taking us from the end of the Seven Years' War to 1783, and drawing on a wealth of previously untapped sources, The Cause interweaves action-packed tales of North American military campaigns with parlor-room intrigues back in England, creating a thrilling narrative that brings together a cast of familiar and long-forgotten characters. Here Ellis recovers the stories of Catherine Littlefield Greene, wife of Major General Nathanael Greene, the sister among the "band of brothers"; Thayendanegea, a Mohawk chief known to the colonists as Joseph Brant, who led the Iroquois Confederation against the Patriots; and Harry Washington, the enslaved namesake of George Washington, who escaped Mount Vernon to join the British Army and fight against his former master.
Countering popular histories that romanticize the "Spirit of '76," Ellis demonstrates that the rebels fought under the mantle of "The Cause," a mutable, conveniently ambiguous principle that afforded an umbrella under which different, and often conflicting, convictions and goals could coexist. Neither an American nation nor a viable government existed at the end of the war. In fact, one revolutionary legacy regarded the creation of such a nation, or any robust expression of government power, as the ultimate betrayal of The Cause. This legacy alone rendered any effective response to the twin tragedies of the founding―slavery and the Native American dilemma―problematic at best.
Written with the vivid and muscular prose for which Ellis is known, and with characteristically trenchant insight, The Cause marks the culmination of a lifetime of engagement with the founding era. A landmark work of narrative history, it challenges the story we have long told ourselves about our origins as a people, and as a nation.
Hardcover, Sept 21st 2021