Vendor- Haymarket Books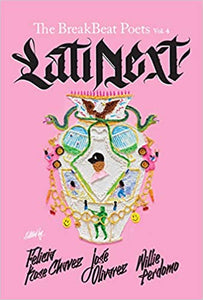 The Breakbeat Poets Vol. 4: LatiNext, by Felicia Chavez, Jose Oliveraz, Willie Perdomo
Haymarket Books
Regular price $19.95 Sale
In the dynamic tradition of the BreakBeat Poets anthology, The BreakBeat Poets Vol. 4: LatiNext celebrates the embodied narratives of Latinidad.  Poets speak from an array of nationalities, genders, sexualities, races, and writing styles, staking a claim to our cultural and civic space.  Like Hip-Hop, we honor what was, what is, and what's next.
Felicia Rose Chavez is a native New Mexican with an MFA in creative nonfiction from the University of Iowa. An award-winning educator, Felicia is currently at work on The Anti-Racist Writing Workshop: How to Decolonize The Creative Classroom, forthcoming from Haymarket Books.

José Olivarez is the son of Mexican immigrants. His debut book of poems, Citizen Illegal, was a finalist for the PEN/Jean Stein Award and won the 2018 Chicago Review of Books Poetry Prize.

Willie Perdomo is an Afro-Caribbean Nuyorican from East Harlem.  He is the author of The Crazy Bunch, The Essential Hits of Shorty Bon Bon, a finalist for the National Book Critics Circle Award; Smoking Lovely, winner of the PEN Open Book Award; and Where a Nickel Costs a Dime, a finalist for the Poetry Society of America Norma Farber First Book Award.  He teaches at Phillips Exeter Academy.
April 7, 2020