Vendor- Lund, Emme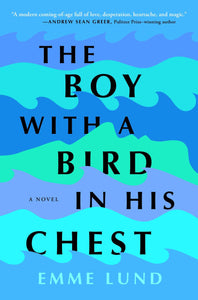 The Boy with a Bird in his Chest
Lund, Emme
Regular price $27.00 Sale

Though Owen Tanner has never met anyone else who has a chatty bird in their chest, medical forums would call him a Terror. From the moment Gail emerged between Owen's ribs, his mother knew that she had to hide him away from the world. After a decade spent in hiding, Owen takes a brazen trip outdoors in the middle of a forest fire, and his life is upended forever.

Suddenly, Owen is forced to flee the home that had once felt so confining and hide in plain sight with his uncle and cousin in Washington. There, he feels the joy of finding a family among friends; of sharing the bird in his chest and being embraced fully; of falling in love and feeling the devastating heartbreak of rejection before finding a spark of happiness in the most unexpected place; of living his truth regardless of how hard the thieves of joy may try to tear him down. But the threat of the Army of Acronyms is a constant, looming presence, making Owen wonder if he'll ever find a way out of the cycle of fear.

A heartbreaking yet hopeful novel about the things that make us unique and lovable, The Boy with a Bird in His Chest grapples with the fear, depression, and feelings of isolation that come with believing that we will never be loved, let alone accepted, for who we truly are, and learning to live fully and openly regardless.
Hardcover, Feb 15th 2022