Vendor- Vintage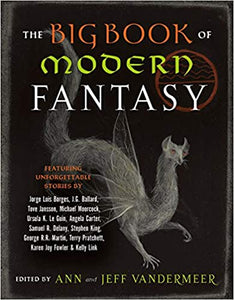 The Big Book of Modern Fantasy by Ann Vandermeer (Editor), Jeff VanderMeer (Editor)
Vintage
Regular price $25.00 Sale
Step through a shimmering portal . . . a worn wardrobe door . . . a schism in sky . . . into a bold new age of fantasy. When worlds beyond worlds became a genre unto itself. From the swinging sixties to the strange, strange seventies, the over-the-top eighties to the gnarly nineties--and beyond, into the twenty-first century--the VanderMeers have found the stories and the writers from around the world that reinvented and revitalized the fantasy genre after World War II. The stories in this collection represent twenty-two different countries, including Russia, Argentina, Nigeria, Columbia, Pakistan, Turkey, Finland, Sweden, China, the Philippines, and the Czech Republic. Five have never before been translated into English.

From Jorge Luis Borges to Ursula K. Le Guin, Michael Moorcock to Angela Carter, Terry Pratchett to Stephen King, the full range and glory of the fantastic are on display in these ninety-one stories in which dragons soar, giants stomp, and human children should still think twice about venturing alone into the dark forest.

Completing Ann and Jeff VanderMeer's definitive The Big Book of Classic Fantasy, this companion volume to takes the genre into the twenty-first century with ninety-one astonishing, mind-bending stories.
Paperback – July 21, 2020