Vendor- Krasnostein, Sarah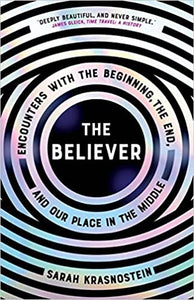 Believer: Encounters with the Beginning, the End, and our Place in the Middle
Krasnostein, Sarah
Regular price $27.95 Sale
For Sarah Krasnostein it begins with a Mennonite choir performing on a subway platform, a fleeting moment of witness that sets her on a fascinating journey to discover why people need to believe in absolute truths and what happens when their beliefs crash into her own. Some of the people Krasnostein interviews believe in things many people do not: ghosts, UFOs, the literal creation of the universe in six days. Some believe in things most people would like to: dying with dignity and autonomy; facing up to our transgressions with truthfulness; living with integrity and compassion. 
By turns devastating and uplifting, and captured in snapshot-vivid detail, these six profiles of a death doula, a geologist who believes the world is six thousand years old, a lecturer in neurobiology who spends his weekends ghost hunting, the fiancée of a disappeared pilot and UFO enthusiasts, a woman incarcerated for killing her husband after suffering years of domestic violence, and Mennonite families in New York will leave you convinced that the most ordinary-seeming people are often the most remarkable and that deep and abiding commonalities can be found within the greatest differences. 
Vivid, unconventional, entertaining, and full of wonder, The Believer interweaves these stories with compassion and empathy, culminating in an unforgettable tour of the human condition that cuts to the core of who we are as people, and what we're doing on this earth.