Vendor- Masood, Syed M.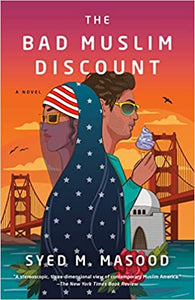 The Bad Muslim Discount
Masood, Syed M.
Regular price $17.00 Sale
It is 1995, and Anvar Faris is a restless, rebellious, and sharp-tongued boy doing his best to grow up in Karachi, Pakistan. As fundamentalism takes root within the social order and the zealots next door attempt to make Islam great again, his family decides, not quite unanimously, to start life over in California. Ironically, Anvar's deeply devout mother and his model-Muslim brother adjust easily to life in America, while his fun-loving father can't find anyone he relates to. For his part, Anvar fully commits to being a bad Muslim.
At the same time, thousands of miles away, Safwa, a young girl living in war-torn Baghdad with her grief-stricken, conservative father will find a very different and far more dangerous path to America. When Anvar and Safwa's worlds collide as two remarkable, strong-willed adults, their contradictory, intertwined fates will rock their community, and families, to their core.
The Bad Muslim Discount
 is an irreverent, poignant, and often hysterically funny debut novel by an amazing new voice. With deep insight, warmth, and an irreverent sense of humor, Syed M. Masood examines universal questions of identity, faith (or lack thereof), and belonging through the lens of Muslim Americans.