Vendor- Adams Media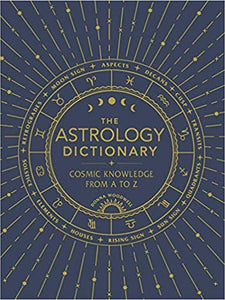 The Astrology Dictionary: Cosmic Knowledge from A to Z, by Donna Woodwell
Adams Media
Regular price $13.99 Sale
Go beyond the horoscope and master the meaning of the stars with this illustrated gift book that features more than 100 definitions for popular astrology terms that you need to know!

There's more to understanding the stars than you might think! Whether you're just learning the basics of the zodiac or are looking to delve deeper into some new concepts, The Astrology Dictionary has easy-to-understand explanations for over 100 of the most common (and important!) astrological terms.

Answer questions like:
—What is the cusp between two Sun signs?
—What does it mean if your Sun sign is mutable? (Gemini and Sagittarius take note!)
—What can your natal chart reveal about your life? (Hint: a lot!)
—And if you want to start at the very beginning, what is the zodiac anyway?

The Astrology Dictionary has all the answers to your most important astrology questions, from birthing charts and retrograde, to sun signs and elements, and everything in between. This fascinating and practical dictionary explains it all, so you can spend more time discovering what the zodiac means to you.
Though Donna Woodwell attended grad school to become a foreign correspondent, she had no idea how foreign she'd get. After exploring ancient and modern astrological, magical, and mystical practices for more than twenty-five years, today she uses this wisdom to help folks discover—and live—their unique genius. Since teaching at major astrology conferences, Kepler College, and Astrology Hub, Donna now runs her own school combining astrology and magic with self-mastery. Learn more at DonnaWoodwell.com.
Released November 19, 2019