Vendor- W.W. Norton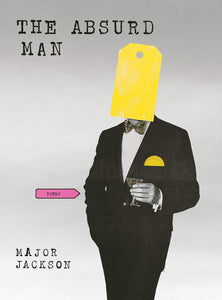 The Absurd Man, by Major Jackson
W.W. Norton
Regular price $26.95 Sale
In this knock-out collection, Major Jackson savors the complexity between perception and reality, the body and desire, accountability and judgment.
Inspired by Albert Camus's seminal Myth of Sisyphus, Major Jackson's fifth volume subtly configures the poet as "absurd hero" and plunges headfirst into a search for stable ground in an unstable world. We follow Jackson's restless, vulnerable speaker as he ponders creation in the face of meaninglessness, chronicles an increasingly technological world and the difficulty of social and political unity, probes a failed marriage, and grieves his lost mother with a stunning, lucid lyricism.
The arc of a man emerges; he bravely confronts his past, including his betrayals and his mistakes, and questions who he is as a father, as a husband, as a son, and as a poet. With intense musicality and verve, The Absurd Man also faces outward, finding refuge in intellectual and sensuous passions. At once melancholic and jubilant, Jackson considers the journey of humanity, with all its foibles, as a sacred pattern of discovery reconciled by art and the imagination.
"Erudite...Moments of startling linguistic play interrupt Jackson's elegant semiformal style... [The Absurd Man] bring[s] us back to an existential truth that only poetry's fierce tenderness can offer."
- Sandra Simonds, New York Times Book Review

"No American poet wears his genius as lightly as Jackson, whose poems here reach new heights of companionable style."
- John Freeman, LitHub
Major Jackson is the author of five volumes of poetry, including The Absurd Man, Roll Deep, and Leaving Saturn, which won the Cave Canem Poetry Prize for a first book of poems. He has edited Best American Poetry 2019 and is a recipient of fellowships from the Guggenheim Foundation, the National Endowment for the Arts, and the Fine Arts Work Center in Provincetown. He has been awarded a Pushcart Prize and a Whiting Writers' Award, and his work has appeared in American Poetry Review, The New Yorker, and the Paris Review, among other publications. The poetry editor of the Harvard Review, Jackson lives in South Burlington, Vermont, where he is a University Distinguished Professor at the University of Vermont.
Released February 25, 2020