Vendor- Harkin, Jo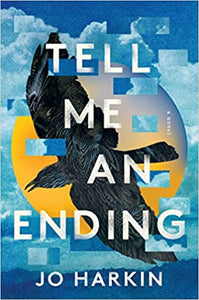 Tell Me an Ending
Harkin, Jo
Regular price $27.99 Sale
What if you once had a painful memory removed? And what if you were offered the chance to get it back?

Tell Me an Ending follows four characters grappling with the question of what to remember—and what they hoped to forget forever.

Finn, an Irish architect living in the Arizona desert, begins to suspect his charming wife of having an affair. Mei, a troubled grad school drop-out in Kuala Lumpur, wonders why she remembers a city she's never visited. William, a former police inspector in England, struggles with PTSD, the breakdown of his marriage, and his own secret family history. Oscar, a handsome young man with almost no memories at all, travels the world in a constant state of fear.

Into these characters lives comes Noor, an emotionally closed-off psychologist at the memory removal clinic in London, who begins to suspect her glamorous boss Louise of serious wrongdoing.

Clever and propulsive, Tell Me an Ending is a speculative novel exploring what the world would be like if we were able to wipe away our worst moments. In this polyphonic tale, author Jo Harkin raises provocative questions about the nature of memory, through characters who confront new knowledge about themselves and a need for answers, meaning, connection, and story.
Hardcover, March 1st 2022