Vendor- Yacovone, Donald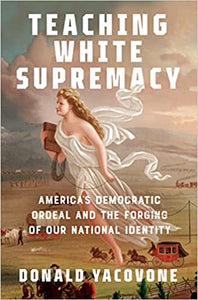 Teaching White Supremacy: America's Democratic Ordeal and the Forging of Our National Identity
Yacovone, Donald
Regular price $32.50 Sale
Donald Yacovone shows us the clear and damning evidence of white supremacy's deep-seated roots in our nation's educational system through a fascinating, in-depth examination of America's wide assortment of texts, from primary readers to college textbooks, from popular histories to the most influential academic scholarship. Sifting through a wealth of materials from the colonial era to today, Yacovone reveals the systematic ways in which this ideology has infiltrated all aspects of American culture and how it has been at the heart of our collective national identity.
 
Yacovone lays out the arc of America's white supremacy from the country's inception and Revolutionary War years to its nineteenth-century flashpoint of civil war to the civil rights movement of the 1960s and today's Black Lives Matter. In a stunning reappraisal, the author argues that it is the North, not the South, that bears the greater responsibility for creating the dominant strain of race theory, which has been inculcated throughout the culture and in school textbooks that restricted and repressed African Americans and other minorities, even as Northerners blamed the South for its legacy of slavery, segregation, and racial injustice.
 
A major assessment of how we got to where we are today, of how white supremacy has suffused every area of American learning, from literature and science to religion, medicine, and law, and why this kind of thinking has so insidiously endured for more than three centuries.
Hardcover, Sept 27th 2022