Vendor- Krell, Maggy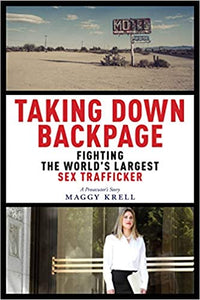 Taking Down Backpage: Fighting the World's Largest Sex Trafficker
Krell, Maggy
Regular price $22.95 Sale
For almost a decade, Backpage.com was the world's largest sex trafficking operation. Seven days a week, twenty-four hours a day, in 800 cities throughout the world, Backpage ran thousands of listings advertising the sale of vulnerable young people for sex. Reaping a cut off every transaction, the owners of the website raked in millions of dollars. But many of the people in the advertisements were children, as young as 12, and forced into the commercial sex trade through fear, violence and coercion.
In 
Taking Down Backpage
, veteran California prosecutor Maggy Krell tells the story of how she and her team battled against this sex trafficking monolith. Beginning with her early career as a young DA, she shares the evolution of the anti-human trafficking movement. Through a fascinating combination of memoir and legal insight, Krell reveals how she and her team started with the prosecution of street pimps and ultimately ended with the takedown of the largest purveyor of human trafficking in the world. She shares powerful stories of interviews with survivors, sting operations, court cases, and the personal struggles that were necessary to bring Backpage executives to justice. Finally, Krell examines the state of sex trafficking after Backpage and the crucial work that still remains.
Taking Down Backpage
 is a gripping story of tragedy, overcoming adversity, and the pursuit of justice that gives insight into the fight against sex trafficking in the digital age.