Vendor- St. Martin's Griffin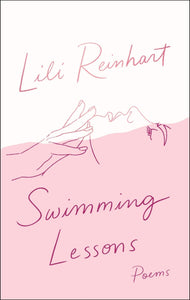 Swimming Lessons, by Lili Reinhart
St. Martin's Griffin
Regular price $17.99 Sale
The debut collection of poetry from Lili Reinhart, the actress and outspoken advocate for mental health awareness and body positivity.
Swimming Lessons explores the euphoric beginnings of young love, battling anxiety and depression in the face of fame, and the inevitable heartbreak that stems from passion. Relatable yet deeply intimate, provocative yet comforting, bite-sized yet profound, Lili's poems reflect her trademark honesty and unique perspective. Accompanied by striking and evocative illustrations, Swimming Lessons reveals the depths of female experience, and is the work of a storyteller who is coming into her own.
Reviews:
"She's a breath of fresh air. Navigating her way through fame her own way, not for a second trying to be anyone she's not, and showing every one of her millions of fans that it's OK to be who you are. In fact, it's the only way." ―ASOS
"Reinhart is committed to offering an honest picture of her world rather than crafting a sanitized facade." ―Flaunt 
LILI REINHART is an actress and advocate for mental health awareness. Swimming Lessons is her first collection of poetry.
Release Date: September 29, 2020