Vendor- Moss, Sarah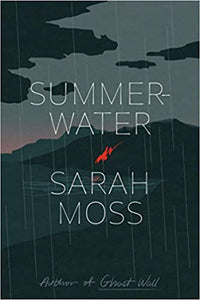 Summerwater: A Novel
Moss, Sarah
Regular price $25.00 Sale
They rarely speak to each other, but they take notice―watching from the safety of their cabins, peering into the half-lit drizzle of a Scottish summer day, making judgments from what little they know of their temporary neighbors. On the longest day of the year, the hours pass nearly imperceptibly as twelve people go from being strangers to bystanders to allies, their attention forced into action as tragedy sneaks into their lives.
At daylight, a mother races up the mountain, fleeing into her precious dose of solitude. A retired man studies her return as he reminisces about the park's better days. A young woman wonders about his politics as she sees him head for a drive with his wife, and tries to find a moment away from her attentive boyfriend. A teenage boy escapes the scrutiny of his family, braving the dark waters of the loch in a kayak. This cascade of perspective shows each wrapped up in personal concerns, unknown to each other, as they begin to notice one particular family that doesn't seem to belong. Tensions rise, until nightfall brings an irrevocable turn.
From Sarah Moss, the acclaimed author of 
Ghost Wall―
a "riveting" (Alison Hagy, 
The New York Times Book Review
) "sharp tale of suspense" (Margaret Tablot, 
The New Yorker
), 
Summerwater
is a searing exploration of our capacity for kinship and cruelty, and a gorgeous evocation of the natural world that bears eternal witness.