Vendor- Greenwood, T.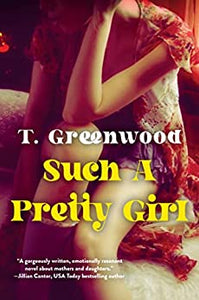 Such a Pretty Girl
Greenwood, T.
Regular price $16.95 Sale
In 1970s New York, her innocence is seductive.
Four decades later, it's a crime...

Living peacefully in Vermont, Ryan Flannigan is shocked when a text from her oldest friend alerts her to a devastating news item. A controversial photo of her as a pre-teen has been found in the possession of a wealthy investor recently revealed as a pedophile and a sex trafficker—with an inscription to him from Ryan's mother on the back.

Memories crowd in, providing their own distinctive pictures of her mother Fiona, an aspiring actress, and their move to the West Village in 1976. Amid the city's gritty kaleidoscope of wealth and poverty, high art, and sleazy strip clubs, Ryan is discovered and thrust into the spotlight as a promising young actress with a woman's face and a child's body. Suddenly, the safety and comfort Ryan longs for is replaced by auditions, paparazzi, and the hungry eyes of men of all ages.

Forced to reexamine her childhood, Ryan begins to untangle her young fears and her mother's ambitions, and the role each played in the fraught blackout summer of 1977. Even with her movie career long behind her, Ryan and Fiona are suddenly the object of uncomfortable speculation—and Fiona demands Ryan's support. To put the past to rest, Ryan will need to face the painful truth of their relationship, and the night when everything changed.
Paperback, Oct 25th 2022