Vendor- Klotz, Leidy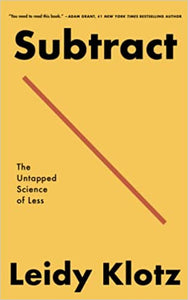 Subtract: The Untapped Science of Less
Klotz, Leidy
Regular price $18.99 Sale
We pile on "to-dos" but don't consider "stop-doings." We create incentives for good behavior, but don't get rid of obstacles to it. We collect new-and-improved ideas, but don't prune the outdated ones. Every day, across challenges big and small, we neglect a basic way to make things better: we don't subtract. Klotz's pioneering research shows us what is true whether we're building Lego models, cities, grilled-cheese sandwiches, or strategic plans: Our minds tend to add before taking away, and this is holding us back.
But we have a choice―our blind spot need not go on taking its toll. 
Subtract
 arms us with the science of less and empowers us to revolutionize our day-to-day lives and shift how we move through the world. More or less.