Vendor- Jacobs, Simon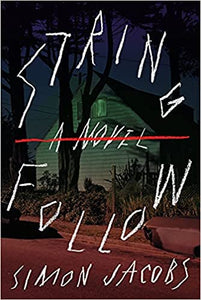 String Follow
Jacobs, Simon
Regular price $18.00 Sale
Something strange is happening to the teens in Adena, Ohio.
A mysterious force is seeking inroads: vulnerabilities to exploit, friendships to hijack, untapped rage to harness toward its own ends. Who will serve it best? Claire is abrasive and aimless, embarrassed by her privilege. Weak-willed David entertains fantasies of cultish orgies, while Tyler covertly takes up residence in his basement. Greg wages war on the voices in his head, while his sister Beth quietly, furiously unravels. And at the center is the empathetic, naive Sarah. The force wants her most of all. But will she be the key to its success or its destruction?
Eerie, hypnotic, and shot through with dark comedy, 
String Follow
 is a razor-sharp suburban gothic that exposes the sweating, bleeding truth of how kids become adults in twenty-first-century America. Simon Jacobs blends the startlingly original and the uncannily familiar, revealing the dark chaos that lurks beneath the surface of Midwestern suburbia.