Vendor- Holm, Johanne Lykke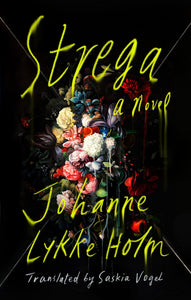 Strega
Holm, Johanne Lykke
Regular price $26.00 Sale
With toiletries, hairbands, and notebooks in her bag, and at her mother's instruction, a nineteen-year-old girl leaves her parents' home and the seaside town she grew up in. Out the train window, Rafa sees the lit-up mountains and perfect trees—and the Olympic Hotel waiting for her perched above the small village of Strega. There, she and eight other girls receive the stiff black uniforms of seasonal workers and move into their shared dorm. But while they toil constantly to perform their role and prepare the hotel for guests, none arrive. Instead, they contort themselves daily to the expectations of their strict, matronly bosses without clear purpose and, in their spare moments, escape to the herb garden, confide in each other, and quickly find solace together. Finally, the hotel is filled with people for a wild and raucous party, only for one of the girls to disappear. What follows are deeper revelations about the myths we teach young women, what we raise them to expect from the world, and whether a gentler, more beautiful life is possible.
 
In stimulating and uninhibited imagery, Johanne Lykke Holm builds a world laced with the supernatural, filled with the secrecy and potential energy of girls on the cusp of womanhood. An allegory for the societal rites, expectations of women, and violence we too easily allow, 
Strega
 builds like a spell that keeps exerting its powers long after reading.