Vendor- Fofana, Sidik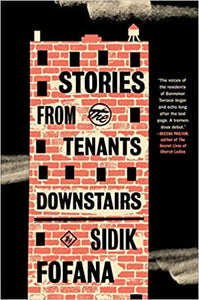 Stories from Tenants Downstairs
Fofana, Sidik
Regular price $26.00 Sale
Like Gloria Naylor's The Women of Brewster Place and Lin Manuel Miranda's In the Heights, Sidik Fofana's electrifying collection of eight interconnected stories showcases the strengths, struggles, and hopes of one residential community in a powerful storytelling experience.

Each short story follows a tenant in the Banneker Homes, a low-income high rise in Harlem where gentrification weighs on everyone's mind. There is Swan in apartment 6B, whose excitement about his friend's release from prison jeopardizes the life he's been trying to lead. Mimi, in apartment 14D, who hustles to raise the child she had with Swan, waitressing at Roscoe's and doing hair on the side. And Quanneisha B. Miles, a former gymnast with a good education who wishes she could leave Banneker for good, but can't seem to escape the building's gravitational pull. We root for these characters and more as they weave in and out of each other's lives, endeavoring to escape from their pasts and blaze new paths forward for themselves and the people they love.

Stories from the Tenants Downstairs brilliantly captures the joy and pain of the human experience and heralds the arrival of a uniquely talented writer.
Hardcover, Aug 16th 2022