Vendor- Laestadius, Ann-Helen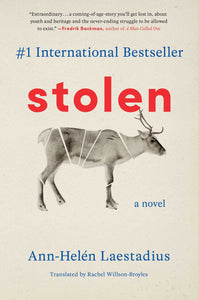 Stolen
Laestadius, Ann-Helen
Regular price $18.99 Sale

On a winter day north of the Arctic Circle, nine-year-old Elsa—daughter of Sámi reindeer herders—sees a man brutally kill her beloved reindeer calf and threaten her into silence. When her father takes her to report the crime, local police tell them that there is nothing they can do about these "stolen" animals. Killings like these are classified as theft in the reports that continue to pile up, uninvestigated. But reindeer are not just the Sámi's livelihood, they also hold spiritual significance; attacking a reindeer is an attack on the culture itself.

Ten years later, hatred and threats against the Sámi keep escalating, and more reindeer are tortured and killed in Elsa's community. Finally, she's had enough and decides to push back on the apathetic police force. The hunter comes after her this time, leading to a catastrophic final confrontation.

Based on real events, Ann-Helén Laestadius's award-winning novel Stolen is part coming-of-age story, part love song to a disappearing natural world, and part electrifying countdown to a dramatic resolution—a searing depiction of a forgotten part of Sweden.
Paperback, jan 31st 2023