Vendor- Gilbert, Sandra M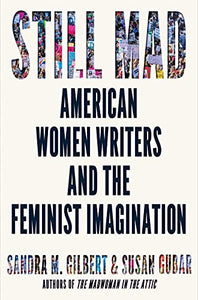 Still Mad: American Women Writers and the Feminist Imagination
Gilbert, Sandra M
Regular price $20.00 Sale
Forty years after their first groundbreaking work of feminist literary theory, The Madwoman in the Attic, award-winning collaborators Sandra M. Gilbert and Susan Gubar map the literary history of feminism's second wave.
From its stirrings in the midcentury―when Sylvia Plath, Betty Friedan, and Joan Didion found their voices and Diane di Prima, Lorraine Hansberry, and Audre Lorde discovered community in rebellion―to a resurgence in the new millennium in the writings of Alison Bechdel, Claudia Rankine, and N. K. Jemisin, Gilbert and Gubar trace the evolution of feminist literature. They offer lucid, compassionate, and piercing readings of major works by these writers and others, including Adrienne Rich, Ursula K. Le Guin, Maxine Hong Kingston, Susan Sontag, Gloria Anzaldúa, and Toni Morrison. Activists and theorists like Nina Simone, Gloria Steinem, Andrea Dworkin, Eve Kosofsky Sedgwick, and Judith Butler also populate these pages as Gilbert and Gubar examine the overlapping terrain of literature and politics in a comprehensive portrait of an expanding movement.
As Gilbert and Gubar chart feminist gains―including creative new forms of protests and changing attitudes toward gender and sexuality―they show how the legacies of second wave feminists, and the misogynistic culture they fought, extend to the present. In doing so, they celebrate the diversity and urgency of women who have turned passionate rage into powerful writing.