Vendor- James, Martin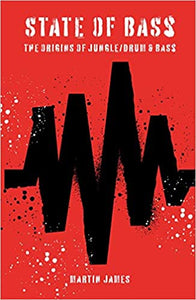 State of Bass: The Origins of Jungle/Drum & Bass
James, Martin
Regular price $21.00 $21.00 Sale
As UK government legislation, standardised music and bad drugs forced the euphoria of the rave into the darkness, a new underground movement emerged – jungle/drum & bass.


It was the true sound of the beating heart of 1990s UK. A melting pot of Britain's multi-cultural urban hardcore rave distilled via the journey from Jamaica's Tivoli Gardens soundsystem clashes, through the UK's inner city blues parties and onto jazz-funk all-dayers and soul weekenders. The jungle/drum & bass nexus was like nothing else the world had experienced before.


Drawing on interviews with some of the key figures in the early years, State of Bass explores the scene's social, cultural and musical roots via the sonic shifts that charted the journey from deep underground to global phenomenon.


Originally published in 1997, State of Bass: The Origins of Jungle/Drum & Bass extends the original text to include the award of the Mercury Prize to Reprazent and brings new perspectives to the story of the UK's most crucial subterranean scene.
May 20, 2020