Vendor- Anam, Tahmima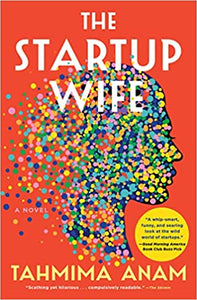 Startup Wife
Anam, Tahmima
Regular price $16.99 Sale
Meet Asha Ray. Brilliant coder and possessor of a Pi tattoo, Asha is poised to make a scientific breakthrough when she is reunited with her high school crush, Cyrus Jones.

Before she knows it, Asha has abandoned her lab, exchanged vows with Cyrus, and gone to work at an exclusive tech incubator called Utopia to develop an app called WAI—"We are Infinite."

WAI creates a sensation, with millions of users logging on every day. Will Cyrus and Asha's marriage survive the pressures of sudden fame, or will she become overshadowed by the man everyone is calling the new messiah?

This "scathing—and hilarious—take on startup culture, marriage and workaholism" (Politico) explores whether or not technology—with all its limits and possibilities—can disrupt modern love.
Paperback, June 7th 2022