Vendor- Levine, Gail Carson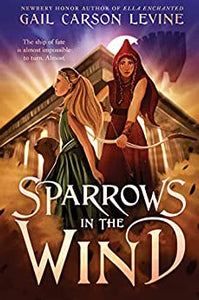 Sparrows in the Wind
Levine, Gail Carson
Regular price $17.99 Sale
Cassandra, a princess of Troy and follower of Apollo, is delighted when the god himself appears to her. Apollo asks to love her in exchange for giving her future sight, and she agrees—but recoils when he kisses her. Enraged, the god transforms his gift into a curse: Cassandra's visions will never be believed.
After horrifying images of coming war and death pour into her mind, and with no one to heed her warnings, Cassandra risks her safety again and again to avert the disaster awaiting Troy.
But it will take years—and the friendship of an Amazon warrior princess named Rin—for Cassandra to find hope of success in reversing the course of the war.
With heroines to cheer for and nail-biting adventures, Newbery Honor–winning author Gail Carson Levine once again transports her readers, this time to ancient Troy, where princesses (even cursed ones) will stop at nothing to shape their fate.