Vendor- Artisan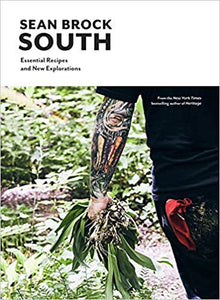 South: Essential Recipes and New Explorations, by Sean Brock
Artisan
Regular price $40.00 Sale
"I will keep this book forever in my collection because no one cooking today is doing more to help the Southern culinary flame burn brighter."
—New York Times

"Masterful. . . . Mouthwatering, virtuosic."
—Publishers Weekly, starred review

Southern food is one of the most beloved and delicious cuisines in America. And who better to give us the key elements of Southern cuisine than Sean Brock, the award-winning chef and Southern-food crusader. In South, Brock shares his recipes for key components of the cuisine, from grits and fried chicken to collard greens and corn bread. Recipes can be mixed and matched to make a meal or eaten on their own. Taken together, they make up the essential elements of Southern cuisine, from fried green tomatoes to smoked baby back ribs and from tomato okra stew to biscuits. Regional differences are highlighted in recipes for shrimp and grits, corn bread, fried chicken, and more. Includes key Southern knowledge too: how to fry, how to care for cast iron, how to cook over a hearth, and more. This is the book fans of Sean Brock have been waiting for, and it's the book Southern-food lovers the world over will use as their bible.
"Sean Brock is prone to diving deep into culinary rabbit holes, and thank God. His latest cookbook, South, builds on the intellectual, culinary and historical work of his 2014 book, Heritage, but widens the lens from the Lowcountry to the Appalachian Mountains, where he grew up. . . . I will keep this book forever in my collection because no one cooking today is doing more to help the Southern culinary flame burn brighter."
—New York Times

"Brock has juggled a panoply of roles: chef, revivalist, archivist, farm-to-table evangelist, the Duane Allman of vegetables, the Alan Lomax of heirloom grains, a dispenser of pleasure and history in equal bites. . . . The might of Brock's influence may portend a turning point in how the cuisine is regarded both at home and in the wider culinary sphere. . . . His second cookbook, SOUTH: Essential Recipes and New Explorations, in many ways serves as a greatest-hits compilation."
—Garden & Gun

"If you love to cook, check out Sean Brock's South, a follow-up to his award-winning Heritage. Born and raised in the Appalachian mountains, Brock is known for his endless creativity, helming incredible restaurants . . . and celebrating Southern ingredients. Now he'll also be known for two of the decade's most beautiful and authoritative Southern cookbooks."
—Southern Living

Sean Brock is the founding chef of the award-winning Husk restaurants and the chef/owner of Audrey and Red Bird, opening next year in Nashville. His first book, Heritage, was the winner of the James Beard Award for Best American Cookbook and the IACP Julia Child First Book Award in 2015 and was called "the blue-ribbon chef cookbook of the year" by the New York Times. Brock won the James Beard Award for Best Chef Southeast in 2010 and was a finalist for Outstanding Chef in 2013, 2014, and 2015. His TV résumé includes Chef's Table and The Mind of a Chef, for which he was nominated for an Emmy. Raised in rural Virginia, Brock is passionate about preserving and restoring heirloom ingredients. He lives in Nashville, Tennessee. Find him on Instagram @hseanbrock.
October 15, 2019