Vendor- Banville, John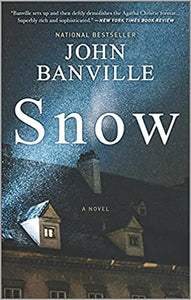 Snow
Banville, John
Regular price $16.99 Sale
Detective Inspector St. John Strafford has been summoned to County Wexford to investigate a murder. A parish priest has been found dead in the house of the aristocratic, secretive Osborne family.

The year is 1957 and the Catholic Church rules Ireland with an iron fist. Strafford not only faces obstruction from the tight-knit community he begins to investigate, but also from the heavily accumulating snow that now blankets the country. But when his own deputy goes missing, Strafford must work to unravel the ever-expanding mystery before the town's secrets, like the snowfall itself, threaten to obliterate everything.

Beautifully crafted, darkly evocative and pulsing with suspense, Snow is "the Irish master" (New Yorker) John Banville at his page-turning best.
Paperback, Sept 14th 2021