Vendor- Freeman, Ru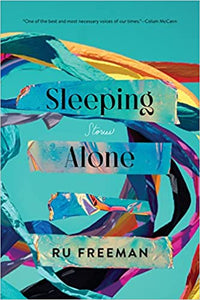 Sleeping Alone: Stories
Freeman, Ru
Regular price $16.00 Sale
In this collection of rich and textured stories about crossing borders, both real and imagined, Sleeping Alone asks one of the fundamental questions of our times: What is the toll of feeling foreign in one's land, to others, or even to oneself? A cast of misfits, young and old, single and coupled, even entire family units, confront startling changes wrought by difficult circumstances or harrowing choices.

These stories span the world, moving from Maine to Sri Lanka, from Dublin to Philadelphia, paying exquisite attention to the dance between the intimate details of our lives and our public selves.

Whether Ru Freeman, author of the novel On Sal Mal Lane, is capturing secrets kept by siblings in Sri Lanka, or the life of itinerants in New York City, she renders the nuances of her characters' lives with real sensitivity, and imbues them with surprising dignity and grace.
Paperback, June 7th 2022