Vendor- Fenkl, Heinz Insu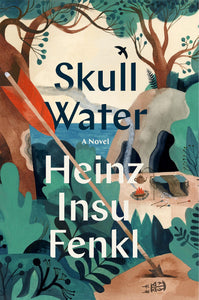 Skull Water
Fenkl, Heinz Insu
Regular price $28.00 Sale
Growing up outside a US military base in South Korea in the aftermath of the Vietnam War, Insu—the son of a Korean mother and a German father enlisted in the US Army—spends his days with his "half and half" friends skipping school, selling scavenged Western goods on the black market, watching Hollywood movies, and testing the boundaries between childhood and adulthood. When he hears a legend that water collected in a human skull will cure any sickness, he vows to find some in order to heal his ailing Big Uncle, a geomancer who has been exiled by the family to a mountain cave to die.
Insu's quest takes him and his friends on a sprawling, wild journey into some of South Korea's darkest corners, opening them up to a world beyond their grasp. Meanwhile, Big Uncle has embraced his solitude and fate, and as he recalls his wartime experiences of betrayal and lost love, he attempts to teach his nephew that life is not limited to what we can see—or think we know.
Largely autobiographical and deeply rooted in time and place, Skull Water is the story of a boy coming into his own—and the ways the past continues to haunt the present in a country struggling to confront its troubled history as it moves into modernity.
Hardcover, Feb 7th 2023