Vendor- Artisan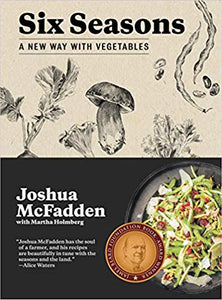 Six Seasons: A New Way With Vegetables, by Joshua McFadden
Artisan
Regular price $35.00 Sale
Winner, James Beard Award for Best Book in Vegetable-Focused Cooking.
Joshua McFadden, chef and owner of renowned trattoria Ava Gene's in Portland, Oregon, is a vegetable whisperer. After years racking up culinary cred at New York City restaurants like Lupa, Momofuku, and Blue Hill, he managed the trailblazing Four Season Farm in coastal Maine, where he developed an appreciation for every part of the plant and learned to coax the best from vegetables at each stage of their lives.

In Six Seasons, his first book, McFadden channels both farmer and chef, highlighting the evolving attributes of vegetables throughout their growing seasons—an arc from spring to early summer to midsummer to the bursting harvest of late summer, then ebbing into autumn and, finally, the earthy, mellow sweetness of winter. Each chapter begins with recipes featuring raw vegetables at the start of their season. As weeks progress, McFadden turns up the heat—grilling and steaming, then moving on to sautés, pan roasts, braises, and stews. His ingenuity is on display in 225 revelatory recipes that celebrate flavor at its peak.
About the author:
Joshua McFadden is executive chef/owner of Portland, Oregon's Ava Gene's, which Bon Appétit has named a "Top 10 Best New Restaurant." Before moving to Portland, McFadden helped define the burgeoning Brooklyn food scene when he was chef de cuisine at Franny's; his other restaurant experience includes Momofuku, Blue Hill, and Lupa in New York and the groundbreaking raw food restaurant Roxanne's in Larkspur, California. McFadden also spent time in Rome, cooking at Alice Waters's project in sustainable dining at the American Academy. He kindled his love of soil, seeds, and seasons during two years as farm manager at Maine's Four Season Farm, founded by sustainability pioneers Eliot Coleman and Barbara Damrosch. McFadden's latest restaurant, Tusk, opened in Portland, Oregon in 2016.
May 2, 2017