Vendor- Central Avenue Publishing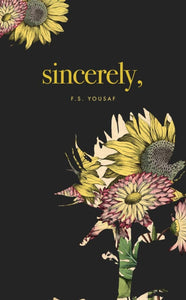 Sincerely, by F.S. Yousaf
Central Avenue Publishing
Regular price $14.99 Sale
Searching for a profound way to propose to his then-girlfriend, F.S. Yousaf reread the letters and poems he had written her. In them he found his proposal, as well as inspiration to write more prose and poetry. From this inspiration, Sincerely was born. It carries messages of positivity, hope, and most of all, true love.
"Sincerely is passionate. Honest. Charming. An uplifting and comforting collection filled to the brim with warmth. It is a celebration of love. As I turned each page, I felt happy, optimistic, and empowered, as though the words were written for me. Ultimately, it made me want to write more love poems. F.S. Yousaf has beautifully encapsulated in a book what it feels like to fall in love." —Madisen Kuhn, Author of Almost Home
Released February 1, 2020
Dear Reader,
When I was proposing to my wife, I had no clue on how to go about it. So I thought back to our beginning- our roots. We are both avid letter writers, so I used that inspiration, along with the various poems and letters that I've sent her, and created this book. A letter meant for her. This poetry collection is a book filled with memories, love, and hope. It's a book anyone can pick up and enjoy, and even give to their significant other. It's a book which tells a tale of how love survives, and thrives. I hope you enjoy this book, because I had so much joy in writing it. 
Sincerely, 
F.S. Yousaf