Vendor- Beem, Christopher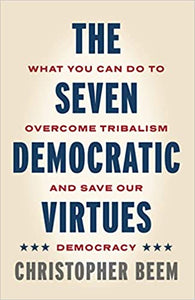 Seven Democratic Virtues: What You Can Do to Overcome Tribalism and Save Our Democracy
Beem, Christopher
Regular price $29.95 Sale
The insurrection of January 6, 2021, demonstrated conclusively that tribalism in the United States has become dangerous. The "other side" is no longer viewed as a well-intentioned opponent but as an existential threat. If we don't change course, American democracy is far from assured.
This book outlines specific steps that average citizens can take to back the nation away from the brink. Instead of looking to political leaders, institutions, or policy for solutions to extreme partisanship, Christopher Beem argues that concerned citizens can and must take up the cause. He spells out seven civic practices we can all follow that will help us work against our antidemocratic tendencies and reorient the nation toward the "more perfect union" of our Founders. Beem's road map to restore our democracy draws on thinkers from Aristotle and Thomas Aquinas to James Madison, Hannah Arendt, Abraham Lincoln, and Franklin Delano Roosevelt.
Empathetic and eminently reasonable, The Seven Democratic Virtues presents practical advice for what each of us can do to change the political discourse and save our democracy. This is necessary reading for our politics today―and in the future.
Hardcover, Aug 30th 2022