Vendor- Su Quiroga, Leah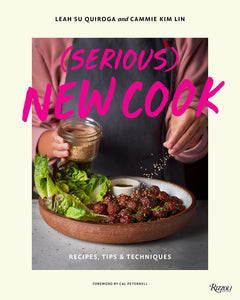 (Serious) New Cook: Recipes, Tips, and Techniques
Su Quiroga, Leah
Regular price $37.50 Sale

Filled with recipes for impressive, craveable food—with all the guidance needed to make it—
(Serious) New Cook
 is perfect for young adults or any new(ish) cooks who have ever found themselves salivating at cooking TikToks or drooling over gorgeous cookbooks, only to believe they aren't skilled enough to attempt the recipes themselves. Here, the clear, detailed instruction and stunning step-by-step photography will have readers wowing their friends and families from their very first dish. Along with recipes that are at once aspirational and totally doable, authors Leah Su Quiroga and Cammie Kim Lin use their experience as a chef from one of America's top restaurants and an award-winning teacher and writer to deftly share knowledge, stories, and brilliant tips with humor and insight. 

It's an homage to their own multicultural families and to the countless young adults they've taught and cooked with—their own kids, Cammie's high school and college students, the new cooks who came up under Leah in the Chez Panisse kitchen. 
(Serious) New Cook
 hits all the right notes, packed with inspired takes on familiar favorites, as well as new flavors to build an expansive repertoire: crepes with compote, handmade arepas, "broken" Caesar salad, mushroom pot pie, Korean bulgogi meatballs, classic cupcakes, dalgona milkshakes, and more. With stunning step-by-step photography by Molly DeCoudreaux, the recipes are presented in trios organized around a core technique or concept. Learn one recipe and readers will be well on their way to mastering all three. Also included are guest recipes from acclaimed chefs and authors Alice Waters, Bryant Terry, Sean Sherman, Sohui Kim, Russell Moore, Claire Ptak, Scott Peacock and Edna Lewis, ushering a new generation of (serious) new cooks into the fold. More than just a collection of recipes, 
(Serious) New Cook
 is an indispensable resource and an inspiring guide.