Vendor- Burnett, Sara R.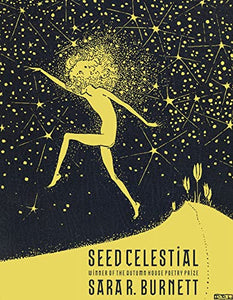 Seed Celestial
Burnett, Sara R.
Regular price $16.95 Sale
 
This collection weaves together themes of motherhood, immigration, social transformation, and interrogation. Throughout 
Seed Celestial
, Sara R. Burnett writes haunting reflections on origins—of myth and memory, language and country, earth and mothers—as she looks to an uncertain future.
 
Bringing together contemporary issues of climate change, gun violence, and feminism while working from her own experience of raising a young daughter, she writes, "You were inside my body / while I was outside; / outside was everything else." Burnett vividly renders her own origin story as an immigrant's daughter using the myths of Demeter and Persephone. This book is a love letter to the earth the way only a mother can write it: appreciating all its faults while seeing its beauty. Burnett offers a poetry collection that is tender, and honest, akin to having an intimate conversation with a friend who tells us what we know to be true about ourselves, our twin capacities for love and violence, and what we don't. She intertwines our violent, complicated world with the uncanny human capacity for hope and describes the awe of a world recreating itself again and again while wondering about all we lose and leave behind, especially for the next generation.