Vendor- Heidicker, Christian McKay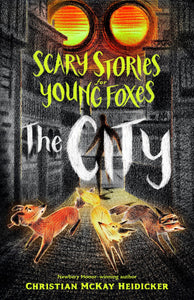 Scary Stories for Young Foxes: The City (Scary Stories for Young Foxes, 2)
Heidicker, Christian McKay
Regular price $16.99 $16.99 Sale
Fox kit O-370 hungers for a life of adventure, like those lived long ago by Mia and Uly. But on the Farm, foxes know only the safety of their wire dens and the promise of eternal happiness in the White Barn. Or so they're told. When O-370 gets free of his cage, he witnesses the gruesome reality awaiting all the Farm's foxes and narrowly escapes with his life.
In a nearby suburb, young Cozy and her skulk are facing an unknown danger, one that hunts foxes. Forced to flee their den, they travel to a terrifying new world: the City. That's where they encounter O-370, and where they'll need to fight for their lives against mad hounds, killer robots, and the most dangerous of all creatures: humans.
Award-winning author Christian McKay Heidicker once again surprises, delights, and terrifies with eight interconnected stories inspired by classic and modern horror tropes and paired with haunting illustrations from Junyi Wu.
Prepare to be scared.