Vendor- Feldman, Stephanie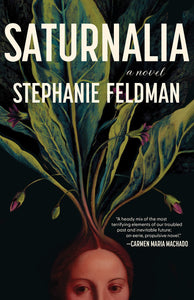 Saturnalia
Feldman, Stephanie
Regular price $28.00 Sale
The Saturnalia carnival marks three years since Nina walked away from Philadelphia's elite Saturn Club—with its genteel debauchery, arcane pecking order, and winking interest in alchemy and the occult. In doing so, she abandoned her closest friends and her chance to climb the social ladder. Since then, she's eked out a living by telling fortunes with her Saturn Club tarot deck, a solemn initiation gift that Nina always considered a gag but has turned out to be more useful than she could have ever imagined.
For most, the Saturnalia carnival marks a brief winter reprieve for the beleaguered people of the historic city, which is being eroded by extreme weather, a collapsing economy, and feverish summers—whose disease carrying mosquitos are perhaps the only thing one can count on. Like Thanksgiving or Halloween, Saturnalia has become a purely American holiday despite its pagan roots; and nearly everyone, rich or poor, forgets their troubles for a moment. 
For Nina, Saturnalia is simply a cruel reminder of the night that changed everything for her. But when she gets a chance call from Max, one of the Saturn Club's best-connected members and her last remaining friend, the favor he asks will plunge her back into the Club's wild solstice masquerade, on a mysterious errand she cannot say no to.
Tonight, Nina will put on a dress of blackest black, and attend the biggest party of the year. Before it's over, she will discover secret societies battling for power in an increasingly precarious world and become custodian of a horrifying secret—and the target of a mysterious hunter. As Nina runs across an alternate Philadelphia balanced on a knife's edge between celebration and catastrophe, through parades, worship houses, museums, hidden mansions, and the place she once called home, she's forced to confront her past in order to take charge of her own—and perhaps everyone's—future.