Vendor- Chapman, Ty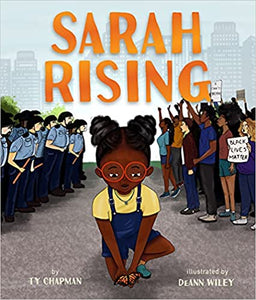 Sarah Rising
Chapman, Ty
Regular price $18.99 Sale
Sarah starts her day like any other day: she eats her toast and feeds her bugs. But today isn't a day like any other day. Today, her dad brings her to a protest to speak out against police violence against Black people. The protesters are loud, and Sarah gets scared. When Sarah spots a beautiful monarch butterfly and follows it through the crowd, she finds herself inside the no-man's land between the line of police and protesters. In the moments that follow, Sarah is confronted with the cruelty of those who are supposed to protect her and learns what it feels like to protect and be protected.
Inspired by the protests that happened during the Minneapolis Uprising after the police killing of George Floyd, Sarah Rising provides a child's-eye view of a protest and offers an opportunity for children to talk about why people take to the streets to protest racial injustice. Readers will gain a new appreciation for how important it is to be part of a community of people who protect each other.
Backmatter includes a note from the author about his experience growing up as a Black boy in the Twin Cities, information about the Minneapolis Uprising, and practical ways kids can get involved in activism.
Hardcover, May 24th 2022