Vendor- Rodgers, Diana and Robb Wolf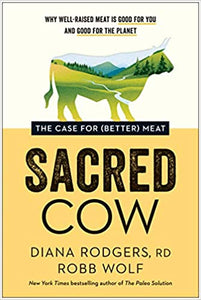 Sacred Cow: The Case for (Better) Meat: Why Well-Raised Meat Is Good for You and Good for the Planet
Rodgers, Diana and Robb Wolf
Regular price $24.95 Sale
We're told that if we care about our health—or our planet—eliminating red meat from our diets is crucial. That beef is bad for us and cattle farming is horrible for the environment. But science says otherwise.
Beef is framed as the most environmentally destructive and least healthy of meats. We're often told that the only solution is to reduce or quit red meat entirely. But despite what anti-meat groups, vegan celebrities, and some health experts say, plant-based agriculture is far from a perfect solution. In Sacred Cow, registered dietitian Diana Rodgers and former research biochemist and New York Times bestselling author Robb Wolf explore the quandaries we face in raising and eating animals—focusing on the largest (and most maligned) of farmed animals, the cow.
Taking a critical look at the assumptions and misinformation about meat, Sacred Cow points out the flaws in our current food system and in the proposed "solutions." Inside, Rodgers and Wolf reveal contrarian but science-based findings, such as:
Meat and animal fat are essential for our bodies.
A sustainable food system cannot exist without animals.
A vegan diet may destroy more life than sustainable cattle farming.
Regenerative cattle ranching is one of our best tools at mitigating climate change.
You'll also find practical guidance on how to support sustainable farms and a 30-day challenge to help you transition to a healthful and conscientious diet. With scientific rigor, deep compassion, and wit, Rodgers and Wolf argue unequivocally that meat (done right) should have a place on the table. 
It's not the cow, it's the how!
Diana Rodgers, RD, is a "real food" nutritionist living on a working organic farm near Boston, Massachusetts. She's an author, runs a clinical nutrition practice, and is the host of The Sustainable Dish Podcast. Diana writes and speaks internationally about the intersection of optimal human nutrition and environmental sustainability. Diana is an advisory board member of Animal Welfare Approved, Savory Institute, and Whole30. 
Robb Wolf, a former research biochemist is the two-time New York Times/WSJ bestselling author of The Paleo Solution and Wired To Eat. Robb has transformed the lives of hundreds of thousands of people around the world via his top ranked iTunes podcast, books and seminars. Robb has functioned as a review editor for the Journal of Nutrition and Metabolism (Biomed Central) and as a consultant for the Naval Special Warfare Resiliency program. He serves on the board of Directors/Advisors for: Specialty Health Inc, The Chickasaw Nation's "Unconquered Life" initiative and a number of innovative start ups with a focus on health and sustainability.
Hardcover Release: July 14, 2020