Vendor- Tur, Katy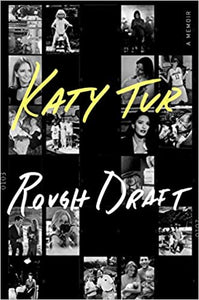 Rough Draft
Tur, Katy
Regular price $28.00 Sale
"By the time I was two years old, I knew to yell 'Story! Story!' at the squawks of my parents' police scanner. By four, I could hold a microphone and babble my way through a kiddie news report. By the time I was in high school, though, my parents had lost it all. Their marriage. Their careers. Their reputations."

When a box from her mother showed up on Katy Tur's doorstep, months into the pandemic and just as she learned she was pregnant with her second child, she didn't know what to expect. The box contained thousands of hours of video—the work of her pioneering helicopter journalist parents. They grew rich and famous for their aerial coverage of Madonna and Sean Penn's secret wedding, the Reginald Denny beating in the 1992 Los Angeles riots, and O.J. Simpson's notorious run in the white Bronco. To Tur, these family videos were an inheritance of sorts, and a reminder of who she was before her own breakout success as a reporter.

In Rough Draft, Tur writes about her eccentric and volatile California childhood, punctuated by forest fires, earthquakes, and police chases—all seen from a thousand feet in the air. She recounts her complicated relationship with a father who was magnetic, ambitious, and, at times, frightening. And she charts her own survival from local reporter to globe-trotting foreign correspondent, running from her past. Tur also opens up for the first time about her struggles with burnout and impostor syndrome, her stumbles in the anchor chair, and her relationship with CBS Mornings anchor Tony Dokoupil (who quite possibly had a crazier childhood than she did).

Intimate and captivating, Rough Draft explores the gift and curse of family legacy, examines the roles and responsibilities of the news, and asks the question: To what extent do we each get to write our own story?
Hardcover, June 14th 2022