Vendor- Lipsitz, Raina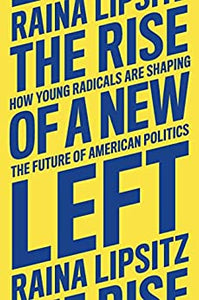 Rise of a New Left: How Young Radicals Are Shaping the Future of American Politics
Lipsitz, Raina
Regular price $26.95 Sale
The mushrooming rolls of the Democratic Socialists of America, Marxist explainers in
 

Teen Vogue
, and the outsized impact of the youngest woman ever elected to Congress, Alexandria Ocasio-Cortez, all herald a new, youth-inflected radical politics.


The Rise of a New Left
 gets behind the headlines about AOC and her cohort of elected officials to tell the stories of the young organizers who created the Squad and the new social movements that have roiled US politics, from the DSA to the Sunrise Movement to Justice Democrats. Ranging across the country to describe grassroots organizing in places like rural Pennsylvania, upstate New York, Kentucky, Florida, and California, this book examines the panoply of strategies and struggles of activists working in—and trying to transform—electoral politics and the climate justice, racial justice, and labor movements. Alongside Ocasio-Cortez, we hear from the even younger Alexandra Rojas, one of the strategists who guided her political insurgency.

Propelled by scores of immersive and absorbing conversations on political strategy with young activists determined to reshape the country, this book—by a writer who is herself a member of this generational movement—is a riveting account of a resurgent left.